Letter from the Editor
Dear Dog Lovers,
Welcome to the first issue of The Dawg Magazine, your online place for information on your favorite breeds, as well as your favorite mixed breeds. This is also a place where you can share with our reader's stories, poems, pictures and jokes all related to our "best friends".
In coming issues, we will be adding features on health, dog shows, and humor, as well as an "Ask Your Vet" column, with your questions to our two featured Veterinarians. We also will be highlighting three breeds recently recognized by the American Kennel Club. Two of these, The German Pincher, and The Toy Fox Terrier will be eligible to be shown in the Miscellaneous Classes beginning, March 1,2001, and April 1, 2001 respectively. The third, The Polish Lowland Sheepdog, will be shown in the Herding Group beginning August 1, 2001.
Another item we will be highlighting in the near future is the AKC's new program, The Foundation Stock Service Classes. This program begins August 1, 2001, and will feature 6 breeds, Neapolitan Matiffs, Nova Scotia Duck tolling Retriever, Red-boned Coon hound, Black Russian Terrier, Irish Glen of Imal Terrier, and Beuceron`. Over the coming months we will try to provide information on these new breeds, as well as more information about the FSS classes.
This month our featured dog breed is our own beloved Old English Mastiff, not only because we know this breed best of all, but because of the poor publicity the Mastiff has been receiving over the past few months in the press. Unfortunately, too many times, the press jumps to conclusions about a particular breed, as with the recent unpleasantness in San Francisco. At first the dog's who attacked were stated as being Mastiffs, then as Bullmastiffs, but even when provided with the correct breed, the press continued to bad mouth the Mastiff. We hope to be able to correct this.
If you wish to provide us with stories about your breed to use when they are highlighted, please don't hesitate to send them to us, along with pictures of your dog. We appreciate stories about Therapy Dogs, humorous stories, show experiences and health questions.and we also will be accepting "brags" about show wins, and new litters.
Breeders are welcome to advertise with us, just send a copy of your business card.
Also, please don't forget to sign our guest book, and please provide us with your e-mail address so we can notify you about each new issue.
Well I guess that's it for now… See you next month, Judie
What Breed of Dog is Right For You?
byJudie Willey One of the biggest problems we have in the dog world today, is dogs ending up in the animal shelters, or in rescue, because they are the wrong breed for the people buying the dog. As we all know, it is very easy to fall in love with a puppy...we all do. But how do you know which breed is the right one for you? There are a few simple questions to ask yourself before decidng on a breed. These questions can save a lot of future heartache.

1) Do I want a puppy, or an older dog? Am I really prepared to deal with potty training, or would I prefer an older dog, who may need a caring home. If I am getting an older dog, am I ready to deal with possible problems of a rescue dog?

2) Do I have the time to spend caring for a long coated breed? Dogs with long hair and double coated breeds, such as Pomeranians and Chows, require dedication in caring for their coats. Even if you have a good groomer to take the dog to, you still need to keep up on the coat between groomings. You also have the added expense of the groomer themselves. Ask yourself " is this something I am willing to commit to?"

3) What kind of lifestyle do I live? Face it folks...if you are an active person who wants a running companion, a working dog is not for you. Look into one of the sporting breeds, such as a Dalmation. Are you a couch potato? Get a Mastiff...they love to share your couch with you. Just make sure you have a big couch. And remember, if you have children, you may not want a Herding dog...they will herd the children. ( Of course, this may be something you like also, it depends on if you have trouble keeping up with your kids. Just send the dog to gather them up.) And if your garden is your pride and joy, you probably don't want a Terrier. Their job is to "go to earth" and dig after nasty little rodents, so much for your petunias.

4)What type of climate do I live in? Where you live can also be a consideration as to the type of breed you get. Short snouted dogs, such as Pugs and Bulldogs, can have a hard time breathing in a very hot , dry climate. If you live someplace where it snows for six months out of the year, you probably don't want a Chinese Crested.

5) Am I a "neat freak"? If the thought of a dog shaking his head after eating or drinking and slobber flying every where bothers you, you definatley dont want a dog with heavy flews, such as a Mastiff, or Mastiff type. These dogs love to share, and are known for getting a drink, then using your lap for a towel.

6) What size dog am I comfortable with? If you don't have a lot of space for a dog to run, or don't have a lot of time to dedicate to walking the dog, you may wish to consider a larger breed. The large, or giant breeds actually take up less room, because they need less space to run. Again, active breeds, such as your sporting and herding dogs, usually do not make good apartment dwellers.

OK...you have answered all the questions, and you have a general idea of what you want, or at least what you think you want. The next step is actually check out the breeds you are choosing between and decide which you really like, and find a reputable breeder. Or to contact the local breed rescue.

Go to local dog shows and visit with the dogs and their owners. Most dog owners and breeders are happy to talk to you about their breeds, as long as it is not just before they are due to be in the ring. Spend the time asking questions about the breed, and don't be afraid to ask about inherent health problems, or traits in the breed that may be less than desirable for your lifestyle. Ask the breeder what kind of health guarantees they provide in their purchase contract, as well as if they make provisions for the if you cannot keep the dog. Are they willing to take the dog back if things "just do not work out"? Find out what kind of testing is done on the dogs prior to breeding, and visit the breeder at home to see the conditions of the kennel.

Next month: "Bringing Your Puppy Home"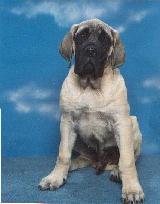 Our First Mastiff
J.L. Willey
Looking back four years to when we got our first Mastiff, ThunderSky's Native Dancer (Renegade), I realize that it was a case of love at first sight. I grew up having dogs, but over the past almost 26 years; I was unable to have one due to where I lived. (This is not a happy situation for a dog lover)
My husband and I finally moved to a house, with a large yard and we no sooner were moved in, than I began "nagging" for a dog. At the time, I was unable to work and this was my best argument for wanting a dog. It would be company for me while Shawn was at work.
Shawn agreed and the big debate began…what breed were we going to get, or were we going to get a mutt. I finally convinced him that I wanted a pure breed, and it was to be a large one. (This was because he was afraid he would accidentally sit on a small dog) But what breed? I have always loved the giant breeds, having grown up around Great Danes. O.K. that part was easy, but again…which breed? We finally narrowed our choice to two breeds, Mastiffs and Irish Wolfhounds. Now we had another question…how do we find a breeder?
Hmmm…let's see…call the Animal Shelter? No, they probably wouldn't have a list of breeders. O.K. call the local kennel club. I had seen several ads in our local newspaper mentioning the Antelope Valley Kennel Club, so I got the phone number and called their breeder referral. The representative, Betty, didn't know of an Irish Wolfhound breeders in the area with puppies, but knew of a local Mastiff breeder, Dick and Mary Greaver, who had not one but two litters available. Now we were getting somewhere. She gave us their phone number, and Shawn called. After asking him a few questions, Dick gave us their address and invited us to come and see the puppies, telling Shawn that if no one answered the doorbell, to come around to the back gate.
Five minutes later, we were on our way.
We got to the house, and sure enough, no one answered the front door, so we went to the gate. As we walked up to the gate, three huge heads appeared over the top, barking and wagging their tails at the same time. I wasn't sure if I was going to be dinner, or if they were just happy to see us. Dick came over to "save " us and let us in. I really don't remember seeing anything so beautiful in my life. I was in love…these were the most wonderful dogs I had ever met…my heart was lost.
The three of us, escorted by Windy, Red, and Abby, walked over to the penned, grass area where Windy's litter was. Abby's pups were about 10 days younger, so still in the house. Looking at the puppies playing in the grass I knew then and there that I had to have one. So obviously, when Dick asked if we wanted to get in with the pups, I jumped at the chance. I sat down in the grass and was immediately engulfed in puppies, there were 12, but it seemed like a hundred. I had puppies in my lap, playing tug of war with my ponytail, nibbling my nose and ears, and kissing wherever they could. I was in heaven, to say the least. All Shawn could do was stand there and laugh.
After about 15 minutes, we helped Dick gather up the litter and put them in their kennel, then went to see the other litter. They were just as beautiful. While we were sitting and talking, Red went a got a drink, then decided to lay down on the couch next to me and put his head in my lap. I was soaked, but how could I not love him? This dog had the biggest head I had ever seen (and enough slobber on his face for three dogs) and he was just so trusting and loving.
Well, we decided that we had to have one of these beautiful babies, but there were still decisions…did we want a dog or a bitch? Were we going to show? Apricot or Fawn? I wasn't sure about getting a bitch, because all I had ever had were males before, so that was easy. We whittled our decision down to 2 Fawn males, and then Dick suggested we take a couple of days to decide, and invited us to meet them at a dog show, so we could see if we would be interested in showing. We did meet them, but that is another story.
We finally decided on a brute of a Fawn, and took him home 2 weeks later. A decision I have never, and will never regret. Renegade is such a large part of our lives now, that we can't imagine ever losing him. But I know that when he does go, I will see him again over "The Rainbow Bridge"